Every knife, a masterpiece
Handcrafted Grohmann Knives are recognized around the world for their beauty, balance and quality.
They have won more than 25 international honors including a display at the New York's prestigious Museum of Modern Art.
Grohmann has been a proud supporter of many conservation groups like Ducks Unlimited, Wild Turkey Federation, Safari Club International, Whitetails Unlimited and many more.
Grohmann Knives has won awards & recognitions worldwide for their D.H. Russell Belt Knives ~ Comfort~ Unique Elliptical Shape~ High Quality Materials and Workmanship.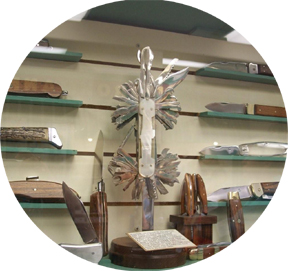 Various last made knives on display by Rudolph Grohmann including his masterpiece 108 parts folding knife made in 1912 which takes over a half hour to completely open.
Proudly North American Made for Over 50 Years