Every knife, a masterpiece
Handcrafted Grohmann Knives are recognized around the world for their beauty, balance and quality. They have won more than 25 international honors including a display at the New York's prestigious Museum of Modern Art. Grohmann Knives are used by hunters and chefs who want quality products. Grohmann has been proud to sponsor many conservation groups over the years including Ducks Unlimited, Wild Turkey Federation, Whitetails Unlimited and many more.
Grohmann Knives has won awards & recognitions worldwide for their D.H. Russell Belt Knives ~ comfort, unique elliptical shape and appearance, and overall high quality materials & workmanship.
Proudly North American Made for Over 50 Years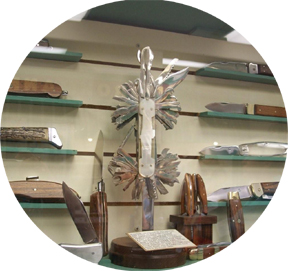 Various last made knives on display by Rudolph Grohmann including his masterpiece 108 parts folding knife made in 1912 which takes over a half hour to completely open.
Factory & Head Office:
Grohmann Knives, 116 Water St, Pictou NS B0K 1H0