1.Forged (Heavy)
Designed for professional chefs and discriminating home cooks, these heavier, precision-balanced knives are easily distinguished by a thick steel bolster that separates the
blade and the handle as well as steel that runs throughout the handle. These are the best quality/best balanced.


---
Perfect for home kitchens. This line has been designed for safety, comfort, balance and lasting beauty. It is a partial tang steel, the steel goes part way through the handle so it is a more lightweight knife.
2.Full Tang (Medium)
Full Tang means the steel goes through the handle. Balance and added strength highlight this happy medium. Falls between average kitchen usage and that of professional chefs.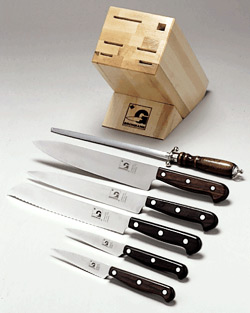 ---
A more cost effective version of the Regular Line with dishwasher safe polypropylene handles that can be sanitized. These are also partial tang steel / lightweight.