Stores who sell Grohmann products Online
Below is a short list of online recommended Dealer websites where you can buy quality Grohmann products right now. (Flags show currency of the dealers site.) Also inquire at outdoor and kitchen stores in your area as they are sold worldwide. If you cannot find what you are looking for from a dealer, or are looking for seconds (scratch & dent final sale items) Grohmann does sell direct from the factory, check out the Clearance page or call toll free phone: 1-888-7-KNIVES.
Also Available In The Following Chain Stores:
Cabela's Canada (formerly SIR Mail Order)
Many other stores also sell Grohmann Products. Ask for Grohmann Knives at your local outdoor or kitchen store.

Other Sites of Interest:
Alpine Bakery - Whitehorse, YT (lovely organic bakery-some breads shown below, also sells some Grohmann knives)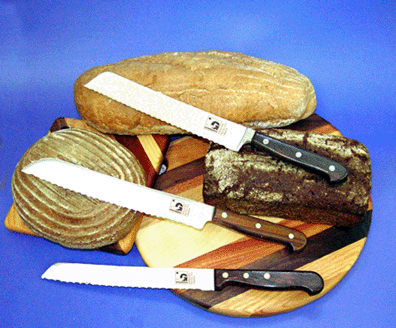 Town of Pictou (Home of Grohmann Knives)