#4 Survival Knife
Big Comfortable Knife for Big Hands
Modeled after the #1 original design. A favorite among big game hunters the world over as well as for those looking for a generous size outdoor knife.
Sturdy design for those with larger hands. Lock down sheath design, belt loop positioned high for comfort while sitting or riding.
Blade approx. 5 1/2" x 1 3/8", of 3/16" stock, total length of 10 5/16".
Handles:
Natural Rosewood
Black Linen Micarta
Wine Xtra resinwood
Natural Water Buffalo Horn
Natural Stag Horn
Sheaths:
Regular open mouth sheath
Overlap (Army)
Sheath with extra pouch (can hold sharpening steel)
Survival Knife with classic rosewood handle, high carbon stainless steel blade, regular sheath #R4S Sugg Retail $130.00
New! By Popular Request: Guthook Option Now Available
Opens up Big Game like a Zipper!
Rosewood Stainless #4 Survival with Guthook #R4SG Sugg Retail $150.00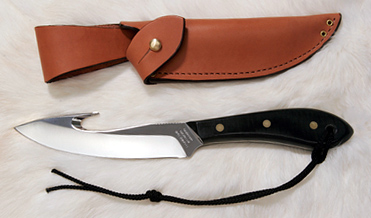 Micarta Stainless #4 Survival with Guthook #M4SG Sugg Retail $160.00
Xtra Resinwood Stainless #4 Survival Guthook #X4SG Sugg Retail $160.00
Natural Water Buffalo Horn Stainless #4 Guthook #W4SG Sugg Retail $198.00
Natural Staghorn Stainless #4 Survival Guthook #H4SG Sugg Retail $236.25