Is it a Grohmann?
Curious about that knife you've always carried? Wonder if the blades you use at work are Grohmann? Is it a real Grohmann knife, or a copy? For instance, there have been around 16 copies of our Original #1 Design that we know of! Below are some product pictures and descriptions to help you decide if you have the real deal or not, plus some special order items and other interesting facts through the years.
---
Grohmann Stamps/Blade Markings
Stamps/Blade Markings
Tang Stamps - Russell Belt Knife, D.H. Russell Belt Knife, Grohmann, Pictou, Nova Scotia, model numbers, stainless or carbon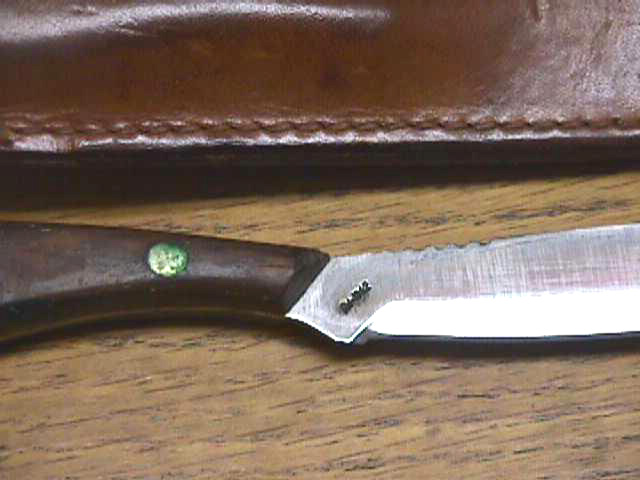 R2S showing registered trademark "RD 1962" RD meaning registered, and the year that the model was registered. These knives were stamped for 20 yrs this way, so if yours has this stamp it could have been made anywhere from 1962-1982.
Original DH Russell lockblade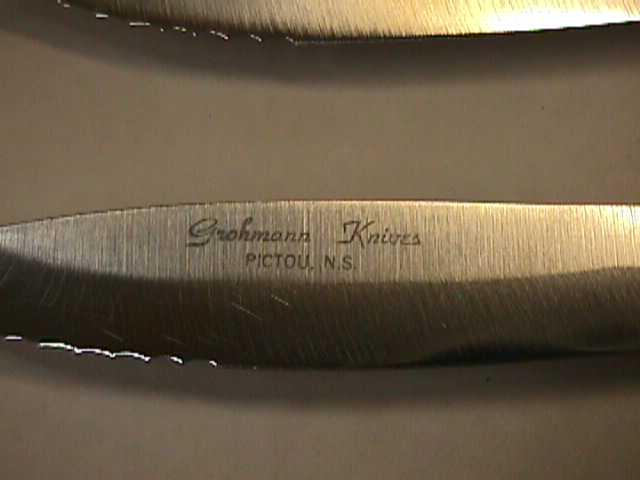 Steak Knives, Chef & Bread Knives with older Grohmann Knives logos
Old Blades Stamps - "S" with a circle around it meant "Stainless", a "C" with a circle around it meant Carbon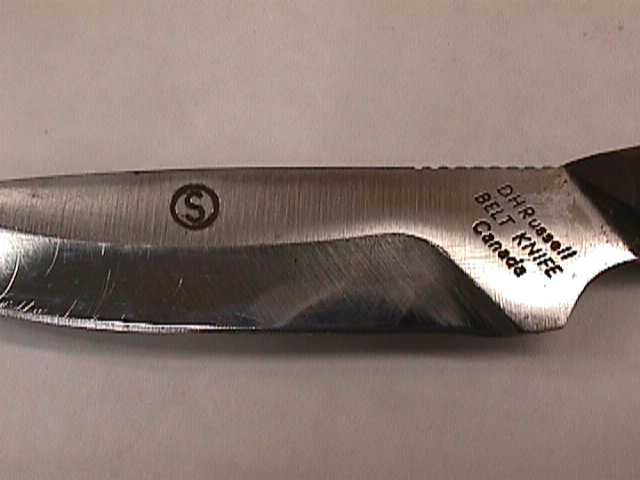 Materials Used
Initially: Various steels and handle materials such as Swedish Carbon, Brazilian Rosewood, Moose horn, caribou,
Switched to East Indian Rosewood (respecting rainforests), German hi-carbon stainless and carbon steels. Handle materials still varying from everything from turquoise to water buffalo
Original sheaths were hand-molded leather and were at one time done in the factory
Brass Rivets were originally used in the knives, then nickel-silver, then aluminum and now back to brass rivets.
Special Collectable Projects - Centennial Knife, Winchester Knife, Ducks Unlimited (more to come)
Other Interesting Creations - Rudolph Grohmann originals, Movie Knives, Production Knives (more to come)
Special Collectable Projects
Centennial Knife- Grohmann issued a collector's Centennial Knife to commemorate Canada's 100th Birthday. "S" in circle on front of blade (stainless), Russell BELT KNIFE Canada tang stamp, rosewood handle, nickel-silver rivets, and nickel-silver centennial medallion sunk into the knife handle, with CANADA, maple leaf picture and centennial dates 1867-1967.
Winchester Knife - In 1980, Winchester Canada had a special one time offer of an Original Design D.H. Russell belt knife when you presented a proof of purchase of a firearm plus $17. Purchasers were then entered into a free draw to win a commemorative rifle. Stainless blades were engraved with "Winchester" and serially numbered, sheaths were stamped with "Winchester", rosewood handle, nickel-silver rivets, brown/gold gift-box.
Ducks Unlimited- Various projects over the years including various Guide Series knives such as the #R3SS Boat Knife, Rosewood handle, Stainless blade, Sheath with pouch holding sharpening steel, and #R2SS Trout & Bird, Rosewood handle, Stainless blade, Sheath with pouch holding sharpening steel, with DU emblem on sheaths and blades.
Hallmark Knives such as the #X100SA Large Skinner with Xtra resin handle, stainless blade, special maroon logo'd overlap sheath.
D.H. Russell Knife Collection: 4 Piece Collector's Wooden/Glass Boxed Set Limited Edition to 300 pieces- Featured R1S Original Design, brass rivets, rosewood handle, laser etched with Elk scene, H2S Trout & Bird, brass rivets, staghorn handle, laser etched with trout underwater scene, X3S Boat, brass rivets, green Xtra resin handle, Whitetail deer scene on blade, and X4S Survival, brass rivets, maroon Xtra resin handle, Bear scene lasered on blade.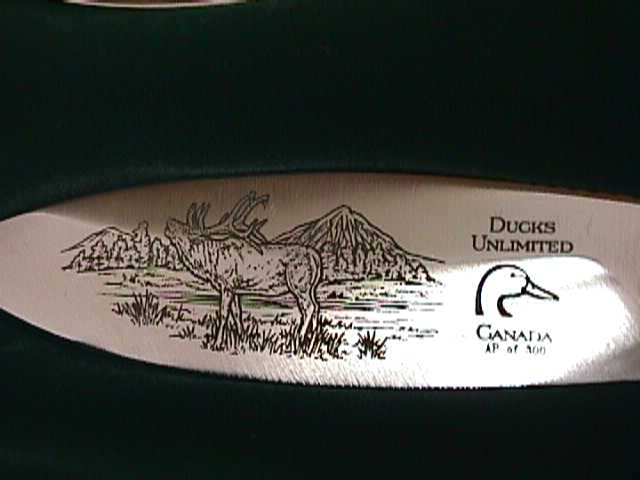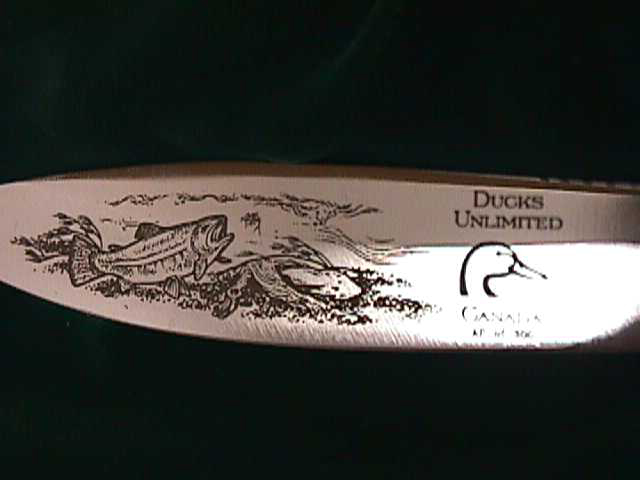 Other Interesting Creations
Knife by Rudolph Grohmann: On display in the factory, this folder was an apprenticeship knife created by Mr Grohmann in 1912. Made of high carbon steel, it weighs three pounds, had 108 parts and takes one half hour to fully open. Other knives made by Grohmann are also on display. (shown below)
Movie Knives: Knives made for the movie "Snake Eater", some dummy ones, some real ones, used by both the bad guys and the good guys. Grohmann's appear in some other movies/documentaries as well (shown below)
Production Knives: Grohmann has been making lots of knives and specialty blades "behind the scenes" for many years now to large manufacturing plants, fish & meat processing plants, etc (shown below)
Replica knives: for the Fortress of Louisbourg that included a pocket folder, kitchen knife with horn handle and kitchen fork
---
Grohmann Knives Ltd made the following....
A knife for a Boston outdoorsman to hold his insulin and hypodermic needle, no tool was needed to get at the insulin, and the handle was waterproof.
One-arm handicap knives that included a small fork on the end of the serrated blade, used to both cut and pick up food with one hand.
Whale flensing knives to cut whale blubber/perform autopsies.
Oosik handled Trout & Bird Knife. Oosik is the penile bone from the walrus. (shown below)
Miniature steak set (shown below)
Horse Hoof trimmers
Loin knives
Canadian Armed Forces Knife for over 20 years; Model #R3SA with brass rivets, overlap sheath
Special commemorative knife for the Canadian Navy Centennial for 2010, only available on the Navy website
Have been in various tv shows, such as
The Urban Peasant-Chef James Barber,
The Inn Chef -Chef Michael Smith,
Red-Hot-and-Ready-Chef John Pritchard,
Fresh and Wild
The Steven and Chris show
The Real Canadian Joes on Wild Tv, and many more
Some movies Grohmann has been in and on set:
"Rare Birds": Grohmann Kitchen Knives were featured in this film. Check out this Lions Gate Films DVD comedy movie featuring William Hurt
Also, for an older movie that's been described as a "Deliverance-style classic", check out the original "Snake Eater" with Lorenzo Lamas which features outdoor knives made by Grohmann (real and dummy knives)
Blind Horizon featuring Val Kilmer also had various Grohmann Knives on set and provided thanks in their credits.
Instore Historical Knives
---

---


108 Parts
FolderOn display at the factory in Pictou, NS

Apprenticeship Knife by Master Craftsman Rudolph Grohmann

Made in 1912

---

---


Other Historical Knives
Can be seen at the factory in Pictou, NS

World Patented Barrel Knife - 1925

Miniature Steak Set & Miniature Pocket Knife

---


Special Grohmann Items
Oosik handled Trout & Bird Knife

Made up especially for one of the owners, this 10,000 year old oosik handled Trout & Bird is quite a beauty. Instead of leaving the rough of the natural oosik (walrus penile bone), it has been polished smooth to leave a creamy oatmeal type appearance.

Whale Flensing Knife

#WFK1C (available factory direct only) 19" carbon steel blade for ease of sharpening, 5ft handle, handle detaches from blade

Tree Shearing Knife

Tree Shearing Knife. 15" serrated high carbon stainless steel blade, 14" hardwood handle. This item was available for tree farms when there were many more in our area but has since been discontinued.

Alaskan Snow Knife

Alaskan Snow Knife #ASK1 -Red hardwood handle, stainless steel blade approx 14" long. Initially supplied to the government, but still available to consumers- used in snow cutting and making igloos (usually a standard stock item)

Also available #ASK2 - with pointed end, brown hardwood handle